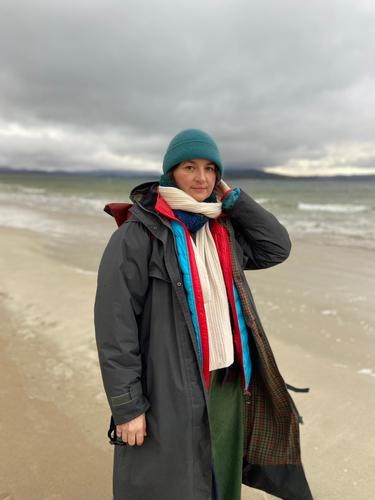 (photo by
Dragana Jurišić
)
About me:
(b. 1979, Cluj-Napoca, Romania)
I attribute my first interest in words to Bea Harsia, my English tutor in Romania when I was 5. After she sat on a blueberry in our garden in Borsa (she was wearing a turquoise terri-cloth bikini) she said, "The only way to get this stain out is with a pair of scissors."
My mother and I moved to America when I was 8, one year before the '89 Revolution, which we watched on TV. I attended Westover High School, a private all-girls' school that offered financial aid to a large percentage of its students and a first-class education in poetry. I have yet to learn of any other place like it.
I went to Yale University, where I studied contemporary poetry and photography. As I was finishing the Johns Hopkins Writing Seminars in 2004, I read somewhere that a filmmaker I admire had studied poetry before beginning (and never finishing) film school. I also knew that I was prepared neither to teach nor publish.
To preempt starvation and a certain kind of death, I fled to former-Communist Romania, to eat real tomatoes and to work in films. I did that for several years, in various capacities, and then returned to academia in 2014, primarily to be in closer contact with poets whose work makes life possible. I am currently researching and writing a PhD on contemporary Irish theology and poetry, sustaining/ developing a personal/ collective grief/ arts practice, while sharing time between Ireland and France.